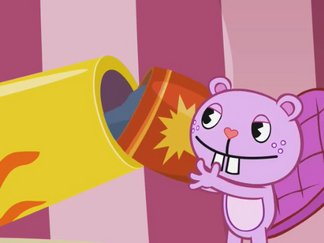 A list of any and all crimes characters have committed in the OC show. These obviously are major crimes, but minor crimes and lesser known offenses are listed as well, which means that nearly all characters have or will commit a crime in the series at some point. Offenses are listed whether or not an arrest/punishment occurred. If a character has actually spent time in prison that will be noted as well.
(Please note that Halloween DVD specials, other special episodes, fanfiction, and next gen episodes are not technically canon to the HTF OCs seasons and are not included here.
Destruction of Property: Bad Monkey is known to destroy things on a regular basis.
Murder/Homicide: Many episodes he appears as he is prone to flipping out due to his war trauma.
Sexual Harassment: While this is debatable, Disco Bear is known to flirt constantly with female characters. If any of them have asked him to stop and he is continuing, it counts as being harassment.
Arson: In quite a few episodes he appears as Flamey is a pyromaniac.
Murder/Homicide In many episode he appears, Flippy unknowingly kills others because of his condition.
Assault:
Sexual Assault:
Kidnapping:
Illegal Weapon Possession:
Stalking:
Cybercrime/Cyberterrorism - Luna used to send viruses and worms to large networks to shut them down and make others afraid of her. In the current series, however, most of her crimes she used to do has stopped.
Theft - Luna used to steal things, such as electronic equipment.
Espionage - Luna has hacked onto other people's computers to attain private information from military and politics.
Murder by Proxy: In All Knotted Up she leaves her patient alone with a flipped out Flare despite it being obvious he is so. She makes no attempt to get her patient to safety.
Minor Assault: In Back Off my Girls!, Peridot takes justice into her own hands rather than going to the police and in turn she severely injuries those who have wronged her girlfriends. In other instances, she will have small temper tantrums and might just slap someone, like in Tiny Peridot, where she does so to Smiles.
Unintentional Murder/Homicide: Several episodes he appears, as he has poisonous skin and he oftentimes makes contact with others by mistakes.
Unintentional Poisoning: Same as above.
Murder by Proxy: Many episodes he appears in; Slayer will kill for others if he is payed enough money.
Murder/Homicide: Several episodes, as her mental condition causes her to flip out.
Ad blocker interference detected!
Wikia is a free-to-use site that makes money from advertising. We have a modified experience for viewers using ad blockers

Wikia is not accessible if you've made further modifications. Remove the custom ad blocker rule(s) and the page will load as expected.