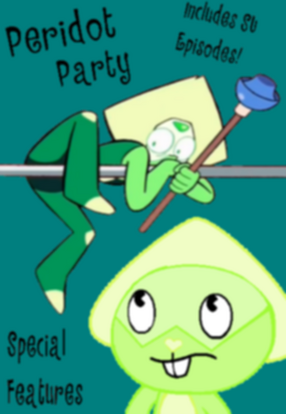 Description
Edit
Love this little green alien? Who doesn't! Packed in this DVD are episodes from both the original Steven Universe series, and the Happy Tree Friends fan show! We also have loads of special content of our little green dorito so get some Mountian Dew and relax!
Steven Universe
Edit
Marble Madness - Peridot keeps sending her drones to Earth and Steven wants to investigate.
Friend Ship - Steven and the gems try to catch Peridot.
Catch and Release - Peridot is finally caught, but Steven releases her.
Happy Tree Friends
Edit
Special Features
Edit
Ad blocker interference detected!
Wikia is a free-to-use site that makes money from advertising. We have a modified experience for viewers using ad blockers

Wikia is not accessible if you've made further modifications. Remove the custom ad blocker rule(s) and the page will load as expected.