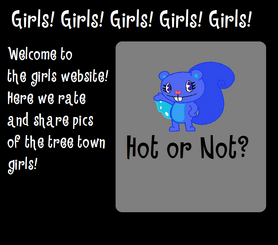 Pervy's website is a site that was seen in the episode Back Off my Girls!. Apparently the website has pictures of Tree Town girls that were taken from other sites without their permission. Users can rate "Hot or Not" and leave comments on pictures.
After Lapis' and Sharky's pictures were posted, Peridot became outraged and revealed the website to the Tree Town's females. After lots of backlash, Pervy eventually took down the website.
Known Users
Edit
Known Pictures and Comments
Edit
Ad blocker interference detected!
Wikia is a free-to-use site that makes money from advertising. We have a modified experience for viewers using ad blockers

Wikia is not accessible if you've made further modifications. Remove the custom ad blocker rule(s) and the page will load as expected.